As Seen In
As Seen In
Seeking Alpha Article – RepliCel Offers Significant Upside
8 years ago
Sep 24, 2014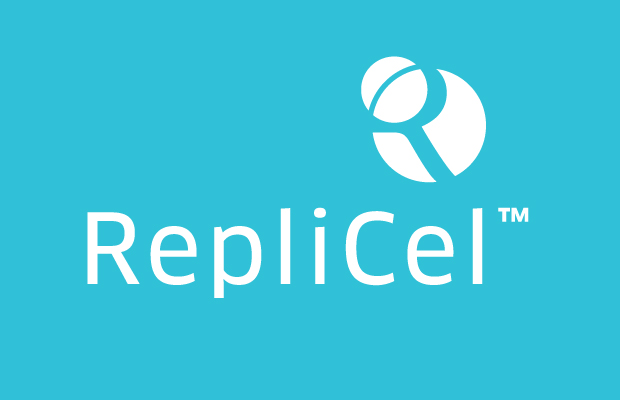 To view the article as it appears on Seeking Alpha, click here.

Summary
RepliCel is a rare blend of upside potential and risk mitigation.
The company has a multiple-product approach.
Near-term catalysts should make the stock pop.
While it is rare to find companies that offer a truly disproportionate positive risk-return profile, RepliCel Life Sciences (OTCQB:REPCF, RP.V) is positioned to have significant upside that is well-justified by the associated risks. The opportunity exists largely because the company is small and essentially unknown – its small size and low daily trading volume represent the most serious risk factors for investors to consider. As the company stands on the cusp of several catalytic events, however, RepliCel is positioned for a meaningful move that will benefit investors.
Who is RepliCel?
RepliCel is in the business of "treating cellular deficiencies" through its proprietary cell reproduction technology, specifically cases of tendonitis, pattern baldness and skin damage. Beyond the technology the company has developed to rapidly reproduce cells for its various treatment protocols, it has developed a delivery injector with addition potential applications. I recently had the opportunity to participate in a meeting directly with company president and CEO David Hall, who emphasized the importance of the diversified product portfolio that his company offers. Because RepliCel is diversified across the fibroblast (collagen-producing), dermal sheath cup (hair producing) and injector lines of business, Hall sees investor risk to be reduced as different lines move ahead.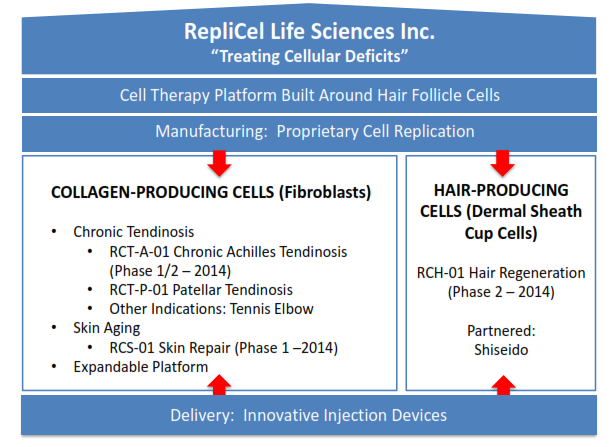 Source: RepliCel Corporate Presentation August 2013
The general basis of RepliCel's products is that the company harvest specific cells from the patient, and then uses its proprietary technology to replicate them in sufficient numbers to address the specific deficit. In the case of the tendonitis treatments, this involves creating new collagen cells that allow the damaged area to see improved function and reduced pain by altering the tendon's basic construction. In the case of baldness treatment, healthy dermal sheath cells allow hair to grow in the needed areas. In both cases, the company's injector is used to properly introduce the cells into the affected region. RepliCel's method allows it to produce these cells much faster than competitors.
In early clinical testing, patient safety has been a top concern. In all Phase 1 trials thus far conducted, results were achieved within the required safety parameters. RepliCel is not involved in tradition stem cell therapies, making it less clinically and commercially risky. Part of what makes RepliCel unique, and particularly attractive from an investment standpoint, is that because the company is not using adult stem cells in its protocols, the regulatory burden falls on the low-end of the spectrum. The primary thrust of RepliCel's treatments are in cosmetic and non-critical areas. While these do not tend to be of huge medical significance – although they can be – the revenue generating potential is there. This is one of the hallmarks of its current mandate to prove up its products to attract a buyer.
The fibroblast protocols have had statistically significant early results in treating various types of tendonitis (See below). In the Phase 1 trial, cell growth increases while pain decreased. Similar tests and Phase 2 testing are moving ahead for tendonitis in the elbow as well. This same technology is moving to Phase 1 trials for treating skin damaged by aging, UV exposure and lifestyle factors. Ultimately, each of these conditions alone represent a significant advance against currently available options, and are in sizeable markets.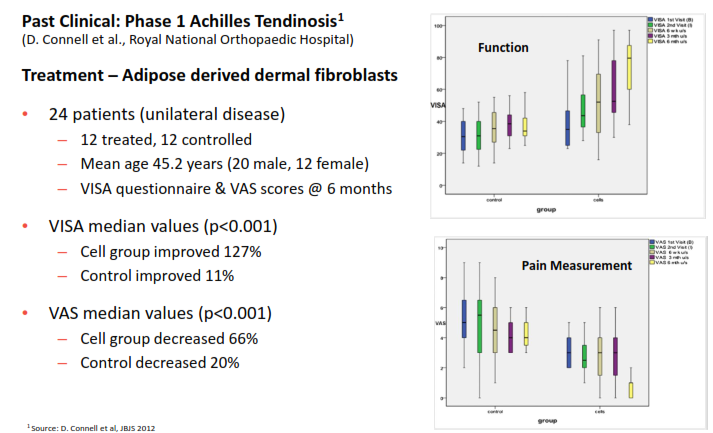 Source: RepliCel Corporate Presentation August 2013
Improved Baldness Treatment
In terms of the company's baldness treatment, Phase 1 showed positive results in less time than the currently available options. While micro-transplant surgery is the current gold standard – it is expensive and highly dependent on the surgeon – Rogaine and Propecia are the most commonly used options currently. Rogaine has shown 8%-16% density increases over 12 months with topical treatment, and Propecia has shown 7%-14% increases over 12 months with an oral regimen. The Phase 1 RepliCel treatment showed an average 11.3% density gain, with 70% achieving over a 10% gain, with the over 10% group averaging 14.3%. The most significant difference with the RepliCel protocol is the end point. Where Rogaine and Propecia require continued use to maintain gains, after the RepliCel injections, gains remain in place. This is a significant point of differentiation.
Catalysts
A highlight for RepliCel from the investment prospective is that the management team is keenly focused on building shareholder value. Hall is targeting and projecting a takeout scenario within 24 months, with major catalysts building value on that path. The biggest driving factor there is new results from the ongoing clinical trials. As each sets a small step-up for the company in terms of the development of a fully saleable product, share price should be significantly impacted.
Along this path, RepliCel already has a key partnership in place with Shiseido, the fourth-largest cosmetics company in the world. The agreement, inked in 2013, provided RepliCel with $35 million, with $4 million upfront and additional fundings at key sales targets. Beyond the capital, Shiseido has built a new cell processing facility that opened in May 2014. The company represents a key strategic partner in terms of both financial strength and reputation. Additionally, this allegiance will allow RepliCel to move quickly in the region as trials for U.S. sales continue. RepliCel continues to seek new partners for other products, each of which, when identified, can serve as a catalyst.
In the near term, there are three different clinical trials beginning in 2014 that should yield the type of data results needed to see the stock move dramatically higher. For example, the planned Phase 2 study on pattern baldness will use a larger test group to establish the lasting efficacy of the treatment, confirming both the safety and effective end date relative to other options. As each of these steps move ahead, RepliCel is well-positioned to move. Hall reports that the company has plenty of cash to complete the clinical trials that are currently planned. He believes that the positive results expected from these will be sufficient to generate the buying interest needed, placing a takeout target within the next 24 months.
The Stock
A definite risk factor of the stock is the very low average trading volume (ADV) of shares. Between shares listed in the U.S. and on the Canadian Venture Exchange, the stock trades less than 100,000 shares per day. This means that the liquidity of any position must be a consideration for any investor making a larger play in the stock. On the other side of things, however, shares are near the bottom of the 52-week trading range. This means that a retracement of even 50% back to that high would represent a dramatic return.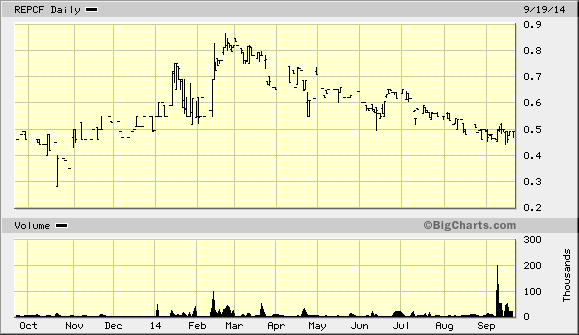 Given the price of shares relative to the potential upside, I believe RepliCel offer an attractive risk-adjusted opportunity to shareholders. There are several catalysts tied to near-term expected milestones that should make the stock move higher. If management can achieve its ultimate goal of a takeout opportunity, shareholders will be well-rewarded. The liquidity risk is real, but the potential here justifies taking some risk.
Editor's Note: This article covers one or more stocks trading at less than $1 per share and/or with less than a $100 million market cap. Please be aware of the risks associated with these stocks.